Uber is spending half a billion dollars to develop its own maps so that it can ditch Google Maps.
Which sounds roughly as sensible as Tesco piling millions into inventing its own shelves. Other people make shelves – good shelves. Why waste money on your own shelves?
Because in the latest arms race in tech, the three biggest prizes are location, location, location. And Uber, the global taxi service valued last year at more than $60bn (£45bn), has bigger plans than getting you home after a night out.
Well, first off, it wants to do that better. As anyone who has been left stranded by an Uber driver who couldn't find you at the side door because he was out front knows, Google Maps doesn't always provide the accuracy required for easy pickups.
By deploying its own mapping cars equipped with cameras and sensors, as it is doing in North America and Mexico, Uber can match mapping tailored to its needs with its vast reserves of location data from rides (last month it completed its two billionth trip just six months after its first billionth).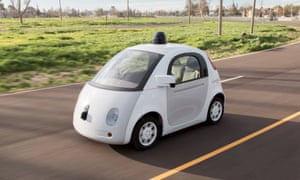 But the real fight is for the future of driverless cars, in which Uber is emerging as a major threat to Google. "If they are going to be head-to-head competitors, owning the digital infrastructure on which your vehicles run is going to be very important," says Steven Feldman, a digital map expert at KnowWhere, his consultancy.
Driverless cars require minutely detailed street imagery. Google has been developing them since 2009. It has the money and mapping chops to do it, but Uber is making serious inroads. Last year it poached Brian McClendon, the head of Google Maps and co-creator of Google Earth. It was also reportedly in the running to acquire Here, Nokia's mapping service, which last December was sold to a consortium of German car makers (Audi, BMW and Daimler).
Other big rivals include Dutch satnav giants TomTom, which has partnered with Bosch to make its mapping fit for the autonomous age. Tesla is creating its own mapping to power the electric car's autopilot function, while Apple remains Google's biggest rival in the phone app market.
The new arms race reflects a power shift in mapping, which began as a function of empire building and warfare (Ordnance Survey, Britain's mapping agency, emerged during 18th-century wars and uprisings in France and Scotland). "Now there are over a million people creating Open Street Map," Feldman says. "Anyone can go out and make a map."